About This Painting: As a daily painter I am often asked how can I paint a painting each day. My mind just goes and I have too many ideas to be able to get them all done in a day. So the small daily studies help me to focus in a direction that I want to move in.
I have been paint some very large palette knife paintings lately. This is a smaller version of some of the very large paintings I am doing. I will have several large palette knife paintings available at my next show Art on the Rocks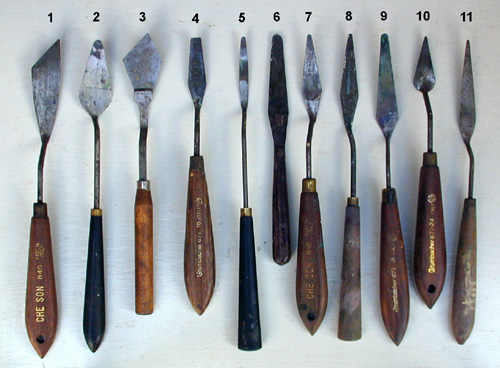 In Marquette Michigan. Above are a few palette knifes that I use when I work this way. It really helps me to loosen up and paint with my whole body not just my hand.



In 2011 the 53rd Annual will be held on Saturday, July 30th, 2011 10 a.m. - 6 p.m. - Sunday, July 31, 2011 10 a.m. - 5 p.m. 200 fabulous Artists will be on display. If yo are in upper Michigan I hope to see you there.
Summer Trees
8x10 oil on a museum quality panel ready to frame.

Media: oil painting
Size: 10 in X 8 in (25.4 cm X 20.3 cm)
Price: $200 USD
How to Purchase:
"post your opinion in the comments" Or, send me an email> ,Thank You: